PTFE Lined Vessel Introduction
The PTFE lined Vessel adopts advanced manufacturing technology, organically integrating tetrafluoroethylene and steel materials, using ordinary carbon steel reactor as the substrate, and lined with plastics such as PFA (soluble polytetrafluoroethylene), PTFE (polytetrafluoroethylene), F40 (ETFE), PO (propylene oxide), PP (polypropylene) with excellent chemical stability, which are formed by roller coating or spraying. It not only has the mechanical strength properties of steel products, but also has the characteristics of tetrafluoroethylene corrosion resistance, non scaling, and not easy to grow microorganisms. It is an excellent corrosion resistant product with the advantages of ensuring the purity of the internal solution medium.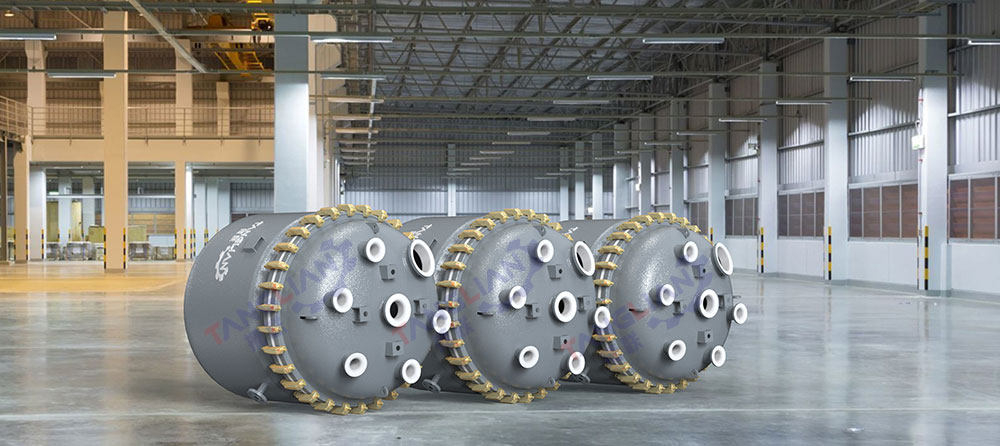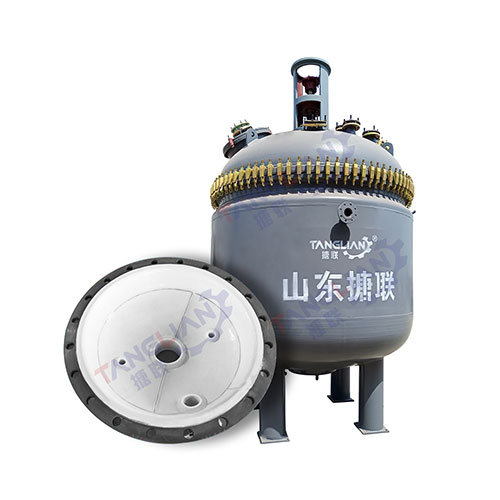 PTFE Lined Reactor Type: open type reactor, closed type reactor
Heating Mode Of Reaction Kettle: jacket heating, inner coil heating, insertion tube heating, outer half coil heating
Housing: carbon steel, stainless steel 304, 316L, titanium alloy Ti, duplex stainless steel 2205
Lining Material: ECTFE (F30), ETFE (F40), FEP, PFA, PTFE
Sealing Gasket: PTFE, rubber wrapped PTFE
Fasteners: galvanized bolts, stainless steel bolts, fluorine lined bolts
PTFE Lined Reactor Technical Parameters
INNER VESSE
JACKET
MATERIAL
Carbon Steel with PTFE Linning
Carbon Steel
DESIGN PRESSURE(Mpa)
0 ~ 1.6
WORKING TEMPERATURE(℃)
-15~200
GLASS LINED THICKNESS(mm)
0.8-1.0
PTFE Lined Vessel Advantages
Features: Good permeability resistance, smooth and bright surface, low friction coefficient, not easy to scale, long service life
Applicable Media: various concentrations of inorganic acids, organic acids, organic solvents, and weakly alkaline solvents

Factory Scenes
Shandong Tanglian Heavy Industrial Group , one of the longest established factories for Chemical reactors / Chemical vessels in China .
We have ISO , SGS , CE ,EU Welder Approval Test Certificate for our company , products and workers .
We mainly focus on below products
Chemical reactor , Storage / Receiving / Buffer tank
Column / Tower section , Pipe line
Heat exchanger / condenser , Evaporator
Main material of our equipment :
Glass Lining , PTFE,ETFE,PFA Lining
Stainless Steel , Carbon Steel , Hastelloy , DP Steel
Company Products
Shipping & Installation